"Water bore well recharge Hiking water supply and making community water efficient"
Water recharge structures changed the way of life for people in Hasiruvallai village, Hasiruvalli Gram Panchayat, Nelamangala Block, Bangalore (rural) District, 'Basavalingayya – The Water Man' of this village shared his story of sufferings in shortage of water and how their water supply was depending on monsoon. The villages in the project area have small to medium-sized tanks.  The monsoon rains bring a slight relief to drinking water problems till October as the tanks available in the village fills up. The tanks dries up after December month causing water shortage till the next monsoon arrives. All the villages in the project were dependent on borewells in absence of any surface water reservoirs exclusively for drinking purposes. To provide a sustainable solution for groundwater recharge team AFPRO team did feasibility study for further planning of interventions. Decade old, 800-1000ft deep borewells were not covered under any water conservation methods. After the survey, the team came up with an in-situ recharge shaft design. Construction of recharge shaft enhanced the water storage capacity up to 20 Cum out of which 10-12 cum of water percolates deep down into the ground.
This has created a recharge potential of 200 cu.m.  As reported by the watermen of the villages, this year, irregular water supply complains is vanished and there is a constant supply of water during the scheduled hours.
Beneficiary Quote(Translated as it is):
"My name is Basavalingayya." "I am working as a waterman in Hasiruvalli village of Hasiruvalli Gram Panchayat for the past 15 years". "After implementation of this recharge shaft, we could see great improvement in the water pumping"."This should be constructed to all the bore wells"."During this month (April), water yield was less". "But now, after the construction of this recharge shaft, the bore well is yielding water continuously". "Earlier, pumping was only 3-4 hours during March and April months, but water yield would not be continuous". "Now, we could easily pump for 5-6 hours without any trouble". "The bore well used to yield 2-inch water (approx.10, 000 ltrs/hr) before the construction of this recharge pit whereas now it is around 2.5 inches (13,500 ltrs/hr)". "Overall the impact is worthy"!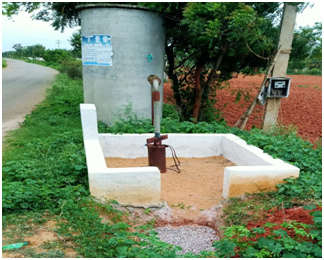 Comments are closed.