Project background 
This project targets Tribal community especially women, small & Marginal Farmers, landless from 16 villages/hamlets of Chopda block in Jalgaon district of Maharashtra. The proposed project area is identified considering the socio-economic condition of the area and need for overall development and scope assessed through rapid need assessment. A selective and innovative approach of water resource management is adopted. Six broad areas of interventions will be helpful in changing the present situation and improving life quality of tribal community in sustainable manner. Water Conservation/Rainwater harvesting and Artificial Recharge, Soil Moisture Conservation, Improved water productivity and water use efficiency through community participation, Agriculture Productivity Enhancement/Sustainable Agriculture, Livelihood Enhancement through SMEs Capacity building & Institutional Strengthening are the main approaches in supporting the  tribal community at grass root level.
Objective of the programme:
Working towards improved water productivity and water budgeting through active community participation; Ground water augmentation through artificial recharge/rain water harvesting ;Agriculture productivity enhancement through promotion of sustainable Agricultural practices ; economic development of tribal women through strengthening of Self-Help Groups and promoting micro and small entrepreneurships; improved knowledge on health and hygiene ; improved educational facility through school infrastructure
Capacity building of the local community with the necessary data, skills and knowledge to manage  water  resources available to them in a sustainable manner.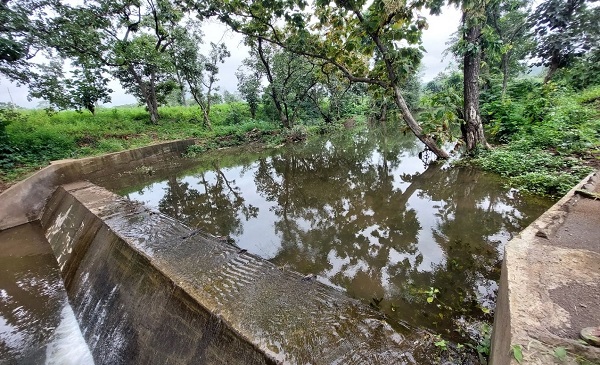 Focal Area          :  Water
Duration              :   November, 2020 to November, 2023
Location               :    Ten Villages in Chopda block of Jalgaon District in Maharashtra
States                    :  Maharashtra
Beneficiaries        : 2527 Households
Funding Agency : Mahindra & Mahindra Limited
Major Interventions:
Recruitment and deployment of team; Conducted village wise project awareness meetings; Design baseline survey in Vaijapur village; NDW work & PT desiltation work on 4000 meters in Vaijapur & Jirayatpada. Village Development Committees formation in four Grampanchayats and 1006 meter length of Nala Widening and Deepening created 8811 Cubic meter of additional water storage capacity. Deepening and Widening of Percolation tank was completed by covering 10334 cubic meter area for 3-Percolation tanks. Construction of two Cement Nala Bunds is under progress in Vaijapur and Devzari Village. Installations of 30 Vermicomposting Beds have been completed,200 Soil Samples collected and submitted to lab for testing soil parameters like N,P,K,PH,EC,Cu,Fe,Mn,Zn,Caco3 etc. 110 numbers of Women members trained through 10 training events conducted in 10 villages.
Comments are closed.