Project background 
With support from Emerson, AFPRO started project at Khed and Maval block in Pune district addressing three major concern of the area- Safe & adequate drinking water, Water conservation and School infrastructure development. The water sources in these areas has got contaminated due to fast growing industrialization, uncontrolled release of effluent into the water bodies and high use of chemical fertilizers and pesticides in Agriculture and have adverse effect on the health of the community. Though the rainfall of the area is more than 1200 mm, still availability of water particularly in the post rainy season is major challenge due to low or inadequate measures for conservation and management of water. Hence, water sustainability in the area is another challenge. Also, infrastructure base of the Government schools in the area is poor and has direct impact on the quality of education for the children. Also awareness level on the personal hygiene and sanitation among the school children is low.
This project will support in upgrading /improvising the basic infrastructure in the schools and will enable environment for learning and better health. It will also help in providing safe & adequate drinking water for community and build good WASH practices which will further support in reducing school absenteeism's.
Objective of the programme:
Major objectives of the programme is to increase the access of the rural communities to improve and sustainable drinking water services, management of water through water conservation technique, create better educational set up by improving infrastructural facilities in the schools for learning and sanitation ; build the capacities of local institutions/CBOs (water user groups, water and sanitation committee, SHGs, etc.) for better living conditions, opportunities for development and sustaining interventions.
Major Interventions:
Installations of five E-Learning Systems have been installed in 5 Zilla Parishad schools of Maval/Khed block. The E-Learning systems have ensured the quality education through improved E-Learning facility to 250 School Children. Organised Seven Training events on Behavioural Change Communication in Mindewadi, Jadhavwadi, Mindewadi and Thakurvasti Schools. Improved School Infrastructure through IEC/Wall Painting in Jadhavwadi-Navlakh Umbre Village and Warangwadi- Ambi Village benefitted 100 school children. This has improved school beautification and educational learning through the informative massages. The construction of new Sanitation unit (2WC+4Urinals and wash basin) each for Boys and Girls in Z.P. School Badhalwadi has been completed. Total 2.2 K.M. U-PVC made3 drinking water pipeline has been installed from Navlakh Umbre to Jadhav wadi. In Jadhavwadi the supply of Drinking water pipeline supply released in existing ESR water tank. Construction of new Sanitation unit (1WC+2Urinals) each for boys and girls is under progress in Z.P. School Badhale wasti. Access to drinking water Increased for 50 HHs in Thakarwasti of shinde village through construction of 25000 liters –ESR tank, Installation of lifting devices, plumbing work and construction of stand post and distribution of pipeline is done. RO System has been installed in five schools for ensuring safe drinking water to 230 School Children.
Impact of the programme:
Construction of new sanitation unit has increased access to improved sanitation facility for 180 students and 7 staff in zilla parishad school Badhalwadi. Total 2200 rmt (7216 rft) pipeline 3" U-pvc 80 SCH DW pipeline from N. Umbre to Jadhav wadi ESR, will benefits to 1000 population. This intervention has increased access to improved sanitation facility for 45 students and 2 staff in zilla parishad school Badhalewasti.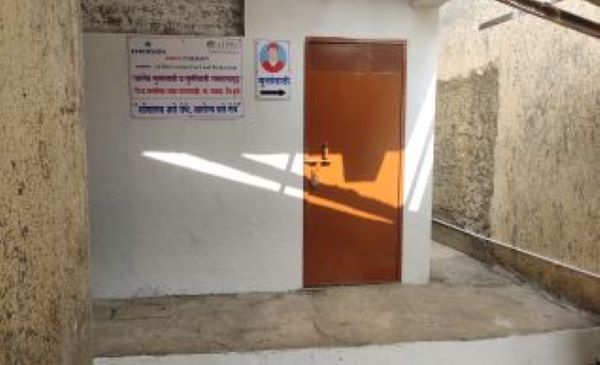 Funding Agency :  EMERSON ELECTRICALS LTD.
Duration             :  January, 2019 to December, 2022
Location              :  4 villages of Maval/Khed block of Pune, Maharashtra
Comments are closed.