Project background 
Land is an asset for existence of human race and hence we need to conserve water and land to meet food demand. Considering the importance of land and water management IKEA Supply AG partnered with AFPRO for promoting some important interventions and indicators that can be visualized as smart land and water management practices together with production practices for sustainable agriculture. This project has been implemented in 8 villages of Jalgaon and 11 villages of Pandharka wada block in Yavatmal district of Maharashtra with the overall goal to build capacity of the farming community to cope up with the impact of climate change through systematic management of land and water resources. One of the important components of the project is 'Land Capability Assessment (LCA)' which is a rational and systematic examination of the ability of land to sustain a specific use and the level of management required to prevent significant long term degradation. This assessment was conducted for the project villages through net planning exercise. Thus, LCA will provide a means of analyzing basic land information and identifying the effect of natural land characteristics on the ability of land to sustain a desired land use.
Objective of the programme:
The overall goal of the project is to build capacity of the farming community to cope with the impact of climate change through systematic management of land and water resources. The specific objectives are development and promotion of capability based land use system in the area, working towards improved water productivity and water use efficiency through active community participation, ground water augmentation through artificial recharge / rain water harvesting, capacity building of the local community with the necessary data, skills and knowledge to manage land and water resources available to them in a suitable manner.
Major Interventions:
Total 30 demo plots were established in selected 10 numbers of villages focusing on the High density planting system (HDPS), IBN/ IPM and efficient water usage, etc. Modular training on Integrated farming system and low external input agriculture were conducted in each village @ 3 events per village on the aspects related to integrated farming and low external input agriculture. 25 observation wells were established along with installation of water level indicator in each well to record the observations during every season. Awareness trainings on Water budgeting, community workshops and water literacy Camp were conducted. The GPs were supported in terms of developing long term plan for village and mobilize support from potential Government programs such as POCRA, JALYUKT, SHIVAR ABHIYAN, IWMP etc. One training conducted on the preparation of Dashparni ark (Bio pesticides) and how to maintain its strength along with its proper storage.
Completed 2400 meter of Nala widening and deepening work at Munzala and Sonurli location. In Jalgaon, total 10 numbers of Nala widening and deepening activities were completed in 6 villages of Chopda block. Total 10 water resource development committees were established in Chopda and Kelapur block of Jalgaon and Yavatmal district repair and maintenance of created assets.In Jalgaon district 3 numbers of trainings for water user group and 2 meetings were organized which has increased active participation of rural people for its maintenance and repairing.
Impact of the programme:
Farmers were trainined on nutrient management on the basis of SHC & it has found farmers applying fertilizer doses according to SHC. AFPRO had concentrated on soil and water conservation issues by conducting water budgeting exercise all project villages. Village wise soil health charts displayed in the selected project villages of Kelapur block & it has resulted farmers to take decision in nutrient management for cotton crop by reducing use of more fertilizers. Nala deepening and widening and farm ponds work at selected villages of Kelapur block has resulted into crop diversification and increasing cropping intensity for the area. Farmers cultivating Rabi and summer crops from last two years period of time. Ground Water level for the villages Mamalde, Krushnapur, Varad, Vardi, Karjane, Nagalwadi, Bor-ajanti of Chopda block has found tremendous change as water level observed from 350 ft to 150ft.  More than 1500 marginal farmers are now happy with cultivating Rabi crops which they were unable to take prior to work.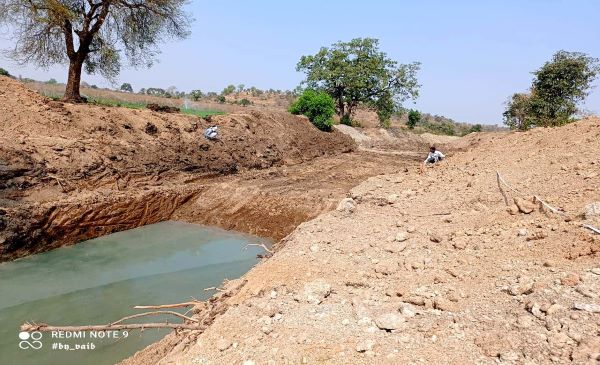 Focal Area        : Watershed
Duration           : April, 2019 to March, 2021
Location            :  8 villages of Chopda, Jalgaon and 11 villages of Kelapur (Pandharkawada block) in Yavatmal district of Maharashtra
States                  : Maharashtra
Beneficiaries      :  6000 Farmers (2019-20) & 2800 Farmers (2020-21)
Funding Agency: IKEA AG Supply
Comments are closed.