Project background 
The Peronod Ricard India Foundation (PRIF)  under the focus sectors – water conservation, safe drinking water, livelihoods (both farm-based and non-farm based) and life on land, supported project at Dindori block of Nasik district for 13 villages. The project villages are tribal dominated areas with 40.74% tribal population. It falls in the watershed area of river Kavadva and its tributaries. The area has lots of potential for construction and repair of water conservation structures due to its undulating topography.
Objective of the programme:
It is an effort towards  sustainable development of villages through integrated approach for improving lives of the people in the project villages by undertaking pilot activities for water and sanitation, sustainable Agriculture and Livelihood enhancement.
Main objectives of the programme include Conservation and augmentation of water resource; promoting water literacy among village community to understand water related risk and work towards ambiance; enhancing knowledge and skills of tribal dominated community in the areas of sustainable agriculture and livelihood development.
Major Interventions:
Completed desiltation, repair and strengthening of existing percolation tank in Nilwandi and Nigdol Villages. Restoration of Canal at a stretch of 16 KM length completed in village Valkhed. Vermi composting unit promoted to 130 beneficiaries and training on integrated pest management, integrated nutrient management practices. Excavation and support of Geo-membrane for 8 Poly ponds has created the water storage facility for irrigation during the dry spell/rabi season. Water budgeting and water resource mapping conducted in the areas which have helped in promoting demand side management practices. Conducted 13 numbers of training programs on sustainable agricultural practices. Established six enterprises for six women SHGs through livelihood promotion activity (3-Goat;2-Dairy and 1-Catering Utensils). Installation of drinking water pipeline in Vanarwadi village. Nala Deepening and Widening activity completed on 3.6 km length in Jambutake, village. Percolation tank strengthening work initiated in village Madkijamb.
Impact of the programme:
Around 180 TCM water storage capacity created through repair and strengthening of percolation tank in Nilwandi and Nigdol Villages, benefitting 175 HA area and more than 100 borewells/dugwells.  Restoration of canal in village Valkhed has brought 250 Ha. area under irrigation. This has also saved water due to alignment of canal and regulated water flow. Vermi Compost units have supported to initiate sustainable agriculture practices in the area and helped in reducing cost on fertilizers. More than 60 women from SHGs engaged in entrepreneurship activity through Livelihood promotion activity .About 17643.83 cubic meter additional water storage capacity created through nala widening and deepening activity in Jambutake village. 287 Families benefitted through drinking water source and supply strengthening.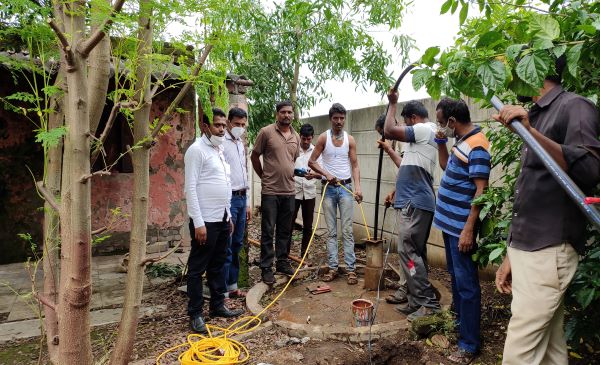 Focal Area         :  Water and Sanitation
Duration             :  August,2019 to July,2022
Location              :   13 villages of Dindori block, Nasik District in Maharashtra
States                   :  Maharashtra
Beneficiaries       : 4474 House Hold
Funding Agency : Pernod Ricard India Foundation (PRIF)
Comments are closed.