Project background 
United Breweries Limited with a vision to bring about sustainable social development for its co-communities through environmental conservation and creation of social capital has partnered with AFPRO to implement integrated water resource management projects in Telangana and Karnataka. In this context 10 selected villages in two gram panchayats of Nelamangala taluk and 8 villages in Sangareddy district of Telangana are selected for this project. In these project villages, due to the vagaries of monsoon and lack or scarcity of surface water resources, dependence on groundwater has been increasing tremendously in recent years. Also, as per central ground water board report both these areas fall into over exploited zone. Realizing the UBL objective for water conservation and rejuvenation in water deprived areas it was mutually decided to initiate field level interventions to "catch the water where it falls" to raise the moisture level of the soil.
Objective of the programme:
The project integrates three main project components namely; assessing the water security status of the village, creating new water harvesting structure to balance the demand and supply side and capacitating farmers on efficient and productive use of water. Major objectives of the programme are conservation of runoff water by the construction of check dams and percolation tanks; improvement of groundwater level by adopting water recharge measures in drinking water bore wells and capacity building of community on effective utilization of groundwater and water budgeting.  The sustainability of the project will be ensured through technological interventions and strengthening community based organizations for future operation and maintenance of the assets created.
Major Interventions:
The initial meetings with Gram Panchayats, orientation to gram panchayat members and gram panchayat officials have been completed. In all 18 project villages baseline study was taken up along with water budgeting to assess the status of each village. Major interventions completed in each region is detailed below:
Karnataka
The construction of ten recharge shafts in seven villages, namely Kalalghatta (two), Gundenahalli (one), Hasiruvalli (two), Vadakunte (one), Jakkanahalli (two), Bhairanayakanahalli (one) and Guddegowdanachanohalli (one) has been completed. Sensitization of community in ten Villages has been completed. Construction of five new check dams completed; 2 no. in Chikkanahalli, 1 each in Kodihalli, Byranayakanahalli and Hasiruvalli village to harvest the runoff water.
Telangana
Five new check dams were constructed in Aliyabad (1), Haridaspur (1), Marepally(1) and Terpole (2) village to harvest the runoff water. Two new percolation tanks were constructed in Machepally and Anantasagar Village and 3 Recharge structure constructed one each in Gangaram, Garakurthy and Ananthasagar village. Eight agriculture related trainings taken up in eight villages as part of community sensitization.
Impact of the programme:
Karnataka – The construction of check dam has helped in conserving 26,250 KL of water recharging    29 bore wells in the vicinity of check dam benefitting 58 farmers providing ensured irrigation in 43 acres of land. 7500 men, women and children are benefitted by construction of recharge pits for drinking water bore wells.
Telengana –
Five check dams have helped in conserving 56950 KL of water supporting 115ha. of land benefitting 98 farmers and recharging 67 borewells. Percolation tank will conserve 41600 KL of water supporting 63ha. of  land benefitting 52 farmers and recharging 30 bore wells and recharge structure will conserve 78000 KL of water recharging 7 borewells.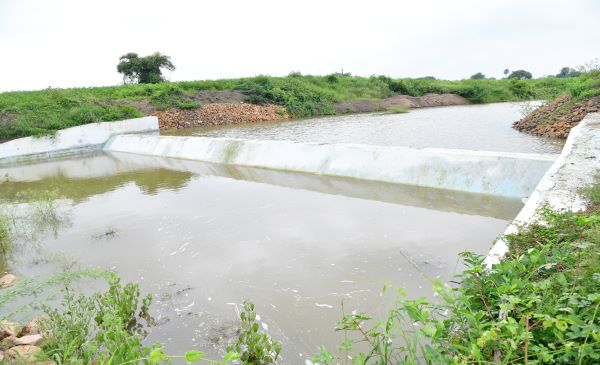 Focal Area          :   Watershed Management
Duration              :    November 2019 to October 2022
Location               :   10 Villages of Nelamangala Taluk, Bangalore Rural District. 8 villages in Kondapur Block of Sangareddy District, Telangana
States                    :   Karnataka & Telangana
Beneficiaries        : 7500 population in Karnataka and  3000 HH in Telangana
Funding Agency  :  United Breweries Limited
Comments are closed.