Project background 
The project aims at building capacity of the Cotton farmer through strategic interventions and technology demonstration for efficient management of water resources and promoting sustainable farming practices.
Objective of the programme:
The main objectives of the programme are working with cotton farmers to integrate  principles on water stewardship, soil management and integrated Pest and nutrient management; promoting water literacy among village community to understand water related risk and work towards improved water resource planning ;capacity building of Women farmers for their active participation ;create a pool of local resources /Para professionals to work on Water Stewardship and sustainable Cotton farming in the area.
Major Interventions:
The project interventions have focused on thematic areas i.e. Capacity building;
Water Stewardship; Women empowerment and Sustainable/ Better Agricultural Practices.Capacity building and training program was well recognized for field facilitators and Krushi sakhi by Krishi Vigyan Kendra,Yavatmal. Established two numbers of Vermi Compost business for SHGs of Yevati and Inzapur villages respectively. World soil day celebrated with the help of Department of agriculture and awareness training on importance of soil health was disseminated among the farmers. Campaign on health and safety measures in the collaboration with Syngenta foundation and agriculture department was carried out and 30 numbers of Health and safety kits were distributed to farmers. Water Literacy training for Krishi Sakhi and field facilitators were conducted to address the critical issues in the maintenance of water. Well Monitoring – 45 numbers of wells for 10 villages. (3 Wells/village) and 15 new wells have been selected in the vicinity of NRM work.
Impact of the programme:
Village wise Agriculture Information Centre worked very well to deliver timely information to the farmers.  The marketing linkages were developed with nearby villages for its quantity distribution.  Farmers from three villages were benefitted from water harvesting structures and they used the water as protective irrigation and survive crop in critical stage. 18 SHG women members from two SHGs engaged in entrepreneurship activity on preparation of vermi compost and Neemark. About 7 ton of vermin compost was prepared in one slot. After awareness on selection of variety for proper growth and low cost of cultivation, 96% farmer selected suitable variety for cotton.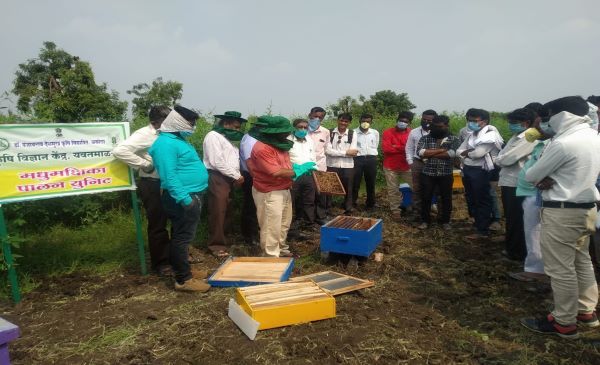 Funding Partner : Sustainable Communities India Pvt. Ltd.
Duration              :  July, 2020 to December, 2021
Location              :   10 Villages in Ralegaon block of Yavatmal district, Maharashtra
Comments are closed.