PROJECT BACKGROUND 
The project was executed in Mahur block of Nanded district. A large part of the block has population of nomadic tribes. Since the introduction of chemical fertilizers and pesticides cotton production has high consumptions of these toxic inputs. The unpredicted nature of weather, various harmful insecticides has attacked the crop more dramatically. This problem shows a direct effect on the seasonal period of cotton by decreasing in the productivity rate of about 25 to 30 per cent in the cotton producing areas. The project supported Cotton farmers and introduced organic farming technologies  to reduce the excessive use of chemicals, to reduce the cost of production of cotton as well as establish Market linkages for ensuring premium price though buy back arrangement with the supply chain agencies.
OBJECTIVE OF THE PROGRAMME
To bring awareness on the dangers of conventional farming which is based on synthetic external inputs
To reduce the pressure of inorganic fertilizers & pesticides use on soil health & environment
To train farmers groups on organic farming techniques and practices in order to reclaim the ecological status of the project area and achieve sustainability in Cotton production.
Recycling and use of farm waste biomass there by reducing cost of production
Improve socio-economic status of the Cotton farmers in the project area
To build on available technologies, Knowledge and skill in way that suits local condition.
KEY IMPACTS
All 1000 numbers of farmers were trained on organic farming techniques through field level trainings.
Total 3000 numbers of yellow sticky and blue sticky traps & 2000 numbers of Pheromone traps were distributed to 1000 numbers of farmers.
36 numbers of Vermi beds were installed in 9 project villages of Mahur block.
36 numbers of drums were distributed for the preparation of Neem Ark and Dashaparni ark.
TAG-KAY (Technical Advisor Group – KVK & CICR-AFPRO-Your Question) WhatsApp group established to sort out field level problems within 72 hrs.
Village level WhatsApp groups created to sensitize farmers on organic agriculture practices. (320 farmers are members)
ICS wise Learning Groups formed to reach 100% farmers. (Total 50 Learning Groups Prepared)
Total 108 numbers of field visits have been completed & 197 (174 Male farmers & 23 Female Farmers) numbers of farmers covered through field visits.
The field visits basically done on monitoring of organic cotton picking, storage, harvesting details of seed cotton, Vermi composting units, pest-disease infestation and cost of cultivation.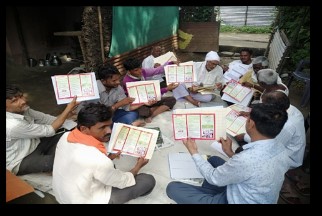 Funding Partner      :  GIZ  & ALDI -North and South
Duration                   : June 2021 – March 2022
Location                   : Nine villages of Mahur block in Nanded districts of Maharashtra State
Comments are closed.